As a leader in the sustainable building market, the Health Product Declaration® (HPD) Collaborative operates its not-for-profit organization on the principles of transparency, collaboration, innovation, respect, and evolution.
Its HPD Open Standard specification works in concert with other leading sustainability programs, such as those guided by the International Living Future Institute, Cradle-to-Cradle Product Innovation Institute, Clean Production Action, BIFMA, US Green Building Council (LEED), and International Well Building Institute (WELL).
Wendy Vittori, the executive director of HPD Collaborative (HPDC), explained how her organization's focus on transparency and collaboration will enable more rapid innovation in the sustainability of building products and the buildings working with the entire ecosystem of programs.
"Our goal is to transform the products in the built environment to be healthier and safer choices for everybody involved. Using open standards and open collaborative innovation processes within the industry is our approach to accomplish this goal. So it's not about just having a standard for reporting – but it's really about getting that information actively into use by decision makers," she said. "Having a single standard for how to report and represent this information is our strategy to make this happen."
"We want it to be normal for a manufacturer to know the chemical constituents in products they are making. When manufacturers understand this information they become able to ask their supplier for safer chemical alternatives. To invest in this kind of R&D, manufacturers and suppliers — whether they're making cable or they're making a chemical – need to see that there's going to be a market for the improved product. The largest group influencing this demand signal is the design community – architects, designers, building owners – this is why it is so important also to work with architecture and design practitioners to help them incorporate this information into the selection and specification of products."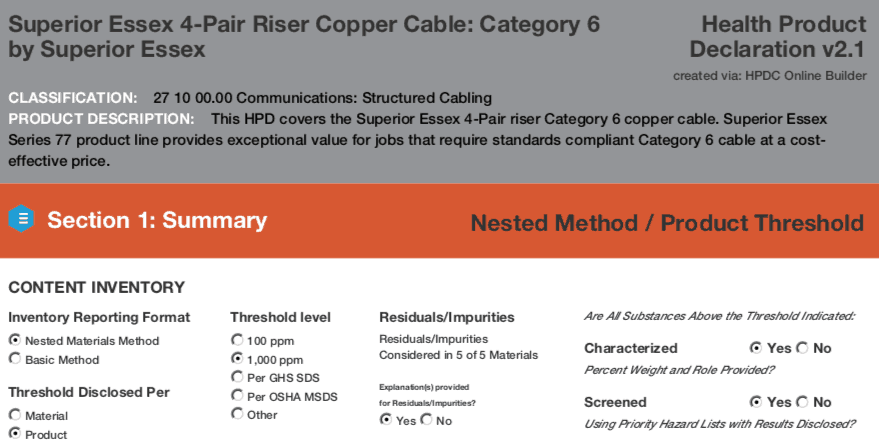 With all the effort that has gone into initiatives like the HPD Open Standard and other transparency and material health programs, we are still some way off from incorporating these practices into the majority of building projects.   Accomplishing broader adoption will necessitate more development of methodology and information tools, and there is significant improvement underway.
"We know there is still much to do to make these practices the norm in the building industry," Vittori said.  "We are working hard at it, and feel the urgency for change, knowing that, as an industry, we can accomplish so much more."
Annie Bevan, the Global Head of Sustainability for Superior Essex, said that she shares in the dissatisfaction of many of her peers that progress has not been faster, but that she is excited to see a light at the end of the tunnel.
"I think many of us that are passionate and engaged and excited about sustainability would have liked a faster pace but we have had some discussions with the architecture industry, MEP firms, and those on the other side of the aisle that want to keep working towards a truly sustainable future for all," she said. "I believe that having advocates and third-party sources, like the HPDC, working with both sides is only going to help get things to where they need to be. Both sides can improve, and both are working to improve, and there is a general excitement within our community entering 2020 and looking forward."
Vittori previously worked as a senior technology executive with both Intel and Motorola and currently serves on several non-profit boards and as an associate faculty at the ASU Lodestar Center for Philanthropy and Nonprofit Innovation. She has a unique eye for seeing gaps on both ends of the chain having been in the trenches within the tech world and then transitioning into a consultancy expert within the sustainability niche.
She believes that creating mutually-beneficial relationships for builders and manufacturers is a natural fit. "Right now, one of the biggest challenges is get the information into use in the architecture, designer, building-owner community. We are working hard to understand the roadblocks to making the use of transparency and material health a normal part of architecture and design projects," she said.
A main element of the solution from the HPDC is its HPD Open Standard which is on its V2.2, as of May 7, 2019, with periodic updates happening on a regular basis.  The HPD Open Standard is a standard specification – composed of a format and instructions – for the accurate, reliable and consistent reporting of product contents and associated health information, for products used in the built environment.
It allows manufacturers to upload information on their products to create a Health Product Declaration. It also allows builders to download that information to help in sourcing with products that are better for the environment.
The HPD Open Standard is governed through a consensus-based, stakeholder process overseen by the HPDC Technical Committee and Board of Directors. The group represents the full spectrum of the building industry from architects, designers, building owners, manufacturers, consultants, tool developers, and others sharing commonalities in sustainably intelligent building goals.
Bevan said that having an agent of change like the HPDC helps to bring a singular location for guidance.
She hopes that it becomes a more commonly cited resource.
"Even as we have more voices in the sustainability space, we all have our own messages. Where the HPDC can help is to streamline and quiet some of the noise that will allow people to ease into the discussion at their own pace," Bevan said. "Being able to have a source that updates and evolves with everyone is in line with a greater good and we support that.
"Superior Essex is proud to be on the leading edge of transparency, to be Red List Free, to be able to participate in contributing to LEED, WELL, and Living Building Challenges and having a place where decision makers can see products side by side will allow a more educated decision to be made. I believe that once they see that all of the specs can be met at the same cost, or a percentage increase, then it makes the choice to either be sustainable and love the Earth, or not. How do you not choose to be sustainable?"
"Working with everyone involved in this growing ecosystem of participants is really key to us," Vittori said. "The role of our organization is to act as a facilitator, a coordinator of that ecosystem, to focus on learning and continual improvement to the benefit of the entire ecosystem of participants.  Our purpose in all of these efforts is to move the building industry to the use of healthier materials, which are key to achieving broader sustainability goals, such as circularity and regenerative design. We want to help buildings become net positive contributors to better human and environmental health."
About Superior Essex Communications
Superior Essex Communications is the leading manufacturer and supplier of communications cable in North America. It is on the forefront of innovation through Power over Ethernet, Intelligent Buildings and Cities, 5G Fiber infrastructure including Hybrid and Composite solutions, as well as technological advancements being made at its Product Development Center. Superior Essex Communications is also setting the pace on sustainability by being the first and only company with a Zero Waste to Landfill Certification at its Hoisington (KS) plant; the first wire and cable producer to contribute points to LEED certification, and the first to offer verified sustainable cables in over 50 products. Superior Essex Communications believes that the technology that interconnects the world should also respect it. Additional information is available at https://sustainability.superioressexcommunications.com
To view all of the sustainable products in the Superior Essex Communications product line, click this link.