The charge that is central to all of Superior Essex Communications sustainability efforts is the belief that the technology that interconnects the world should also respect it.
Recently its Hoisington (KS) plant was awarded with a Zero Waste to Landfill certification by GreenCircle Certified for a fifth consecutive year.
The effort to reduce waste has created impressive results. Results that include being one of only nine companies in the world to be certified as truly Zero Waste with a diversion of over 22 million pounds of waste over five years, and a reduction of scope 1 and scope 2 carbon emissions by 21% since 2011.
Annie Bevan, Global Head of Sustainability for Superior Essex Communications, said the cumulative impact cannot be understated.
"When these facts come in one at a time it is impressive, but seeing them all listed together it is overwhelming," she said. "To know what one company can do is inspiring. To think what would happen if others joined is immeasurable in terms of impact.
"We are seeing it more frequently that businesses are taking sustainability more seriously. It is not just to appease a fringe group it is to mitigate risks as well as to aid in the bottom line."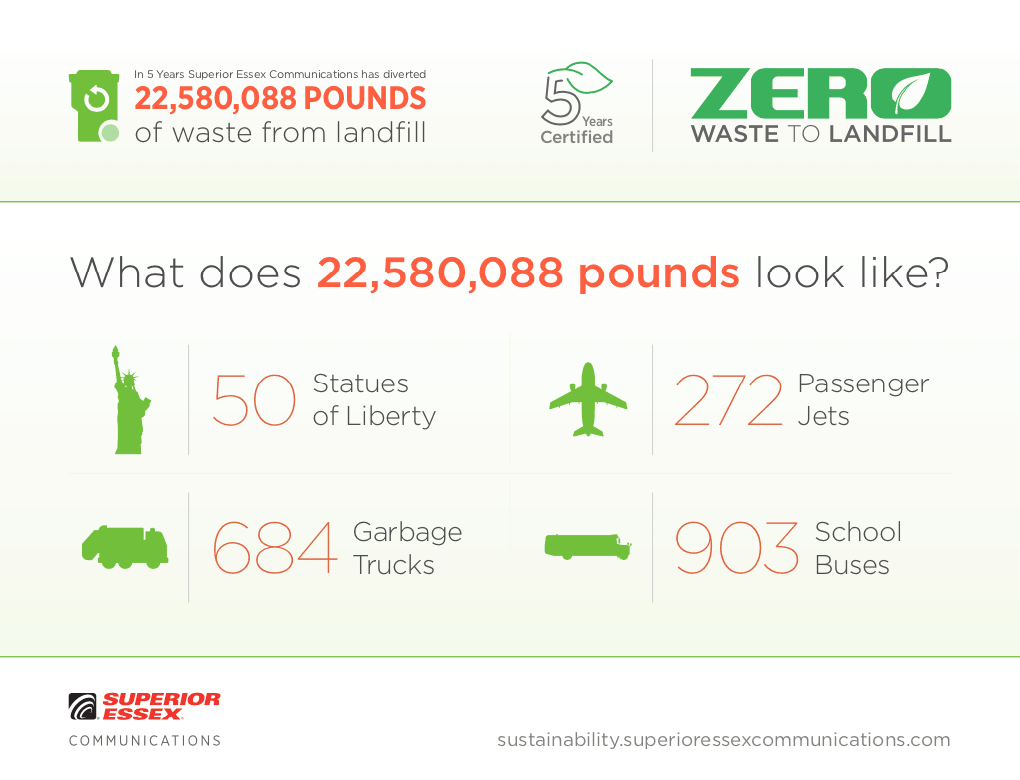 Superior Essex Communications stands proud with Brewer Science, Coca-Cola Beverages Florida, FMC bioPolymer UK Ltd., FMC International, J+J Flooring Group, Sustainable Purchasing Leadership Council, and Tarkett as some of those being certified as Zero Waste by GreenCircle.
The Zero Waste to Landfill certification from GreenCircle is one of the most difficult sustainability certifications to meet. GreenCircle will certify an organization for Zero Waste to Landfill Certification if 100% of the materials leaving the facility are diverted from landfill via one of GreenCircle's acceptable means of diversion. 100% of materials leaving the downstream material management organizations must also be diverted. Zero actually means zero with GreenCircle's certification.
Attaining the zero-waste to landfill facility status means that Superior Essex, and those others, must account for the potential waste created throughout its entire downstream process, including that of third-parties who are involved in the recycling and reuse of waste materials.
Other certification companies have variant level of acceptability to achieve Zero Waste.
UL, TRUE, and NSF lists many other brands as certified by their standing. Those companies include: MillerCoors, BASF Catalysts, Waste Management, Milo's Tea Company, and Hy-Vee Chariton Distribution Center, among several others.
Those listed as Zero Waste, regardless of platform, make a complete list of just under three dozen companies across the globe to have achieved this status. An even smaller list exists for those who have maintained this for five years and counting.
Bevan said that there are many others making efforts to attain certification and still more that are simply doing their part.
"Time and again we see reduction efforts being implemented in businesses across many industries," she said. "Being truly Zero Waste requires more than just good processes. It takes the entire team at the manufacturing facility to commit to these efforts—it is truly incredible to see. It is important to shine a positive light on all the reductions, recycling, and implementation of better policies and practices being made by so many companies.
"There is certainly a pride in achieving what we have, however it is to be an example. I, personally, want all companies to strive to do its best and while it is something that we done a large scale, there is a compound value that if every company is reducing their waste being sent to landfill by percentage points then we are making a greater impact by all working together."